Bring relief quickly with Mylanta
Heartburn and gas pains can be uncomfortable – and keep you from doing what you enjoy. Mylanta starts to work on contact at the source of your discomfort, quickly relieving your heartburn or gas symptoms while being gentle on your body.
Mylanta is the #1 doctor-recommended liquid antacid brand and Maximum Strength Classic Flavor is the #1 selling liquid antacid product. New all-in-one Mylanta ONE is powerful heartburn and gas relief in a single dose tablet. And Mylanta Gas Minis offers fast, effective gas relief on the go.
Mylanta's heartburn and gas relief products come in great-tasting flavors and different varieties to match your needs and lifestyle.
Liquids
Mylanta's soothing, multi-symptom liquid remedies work on contact by neutralizing the acid that causes discomfort. They go to work at the source of your symptoms to deliver fast relief of heartburn, acid indigestion, sour stomach, bloating and gas. Mylanta's coating liquids come in three great-tasting products you're going to love.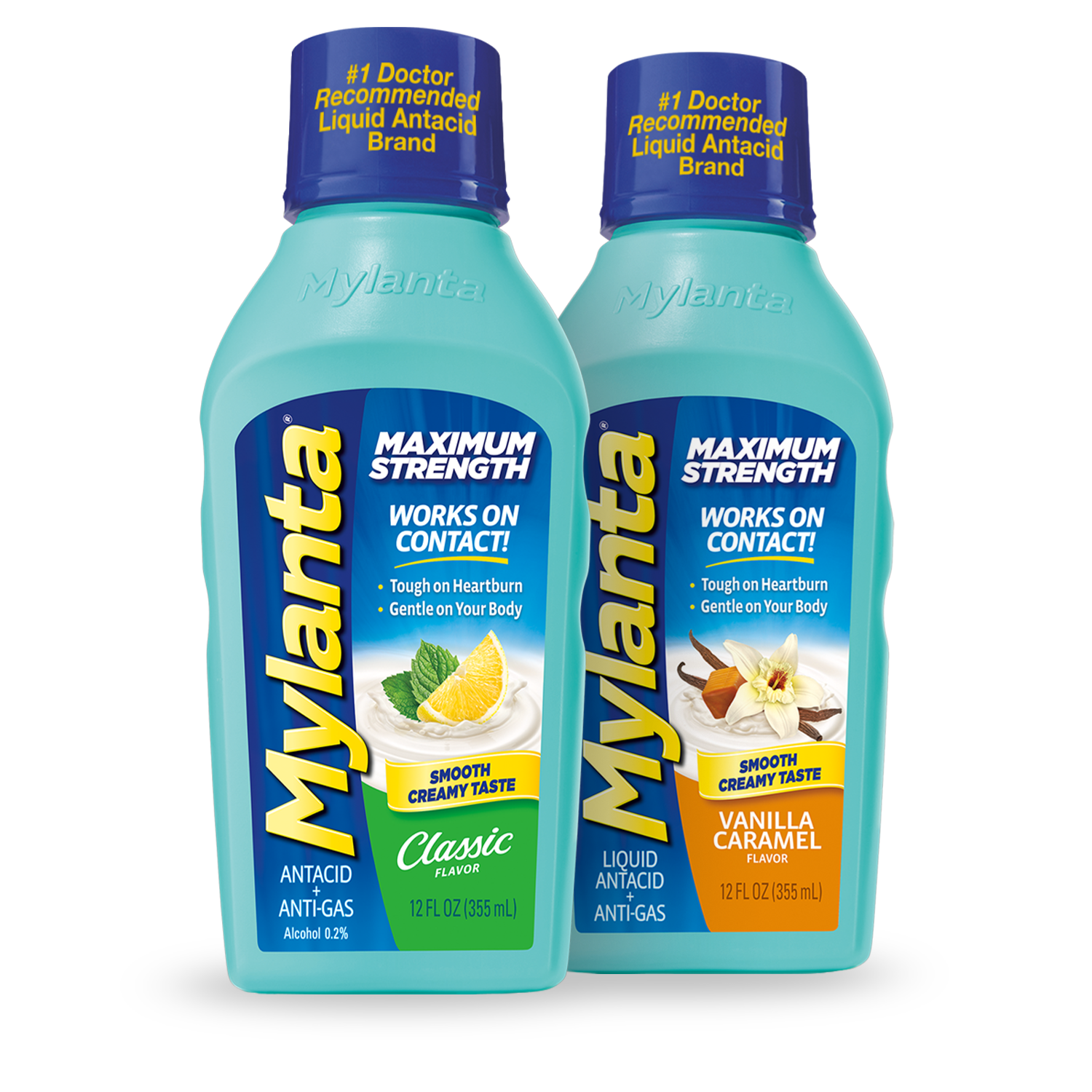 Mylanta Maximum Strength Liquid Antacid/Anti-Gas
Our strongest liquid antacid provides fast relief in either Classic Lemon Mint or creamy Vanilla Caramel flavors.
Mylanta Tonight Liquid Antacid/Anti-Gas
Our specially designed non-drowsy formula comes in Honey Chamomile flavor for soothing relief of heartburn after dinner.
Mylanta Coat & Cool® Liquid Antacid/Anti-Gas
Our latest liquid antacid offers twice the coating power of our maximum strength formula and is available in a smooth, chocolate mint flavor.
Tablets
Fight acid and gas with all-in-one Mylanta ONE. It combines 3 powerful ingredients in one smooth, great-tasting chewable tablet. Just one tablet starts to work on contact to give you fast, multi-symptom relief of heartburn, acid indigestion, bloating and painful pressure from gas.
Mylanta ONE Antacid/Anti-gas tablet
All-in-one, single dose tablets available in lemon mint and berry ginger flavors.
Gas Relief
Stop suffering from gas silently. Get rid of gas and bloating quickly, and discreetly, with Mylanta's Gas Minis. These extra-strength tablets come in a convenient, on-the-go pocket pack and two great-tasting flavors.
Mylanta Gas Minis
These Mylanta Gas Minis work fast and are available in Assorted Fruit and Arctic Mint.